Great Wolf Lodges install Rane Mongoose
Great Wolf Resorts currently operates a dozen Great Wolf Lodge family resorts around the USA. They've made USA Today's "Top 10 Places to Warm Up" list, and no wonder: each resort is built around a weatherproof indoor water park where the air temperature is always 84 degrees. Themed suites and restaurants, interactive arcades, spas for both parents and kids, fitness centers, nightly Storytime and other activities have earned Great Wolf Lodges a place on Family Fun's Top Family Resorts in the Midwest list, along with a spot on Reader's Digest's list of the 100 Best "Time Off" Locations.
Each Great Wolf Lodge also serves the business and social needs of its surrounding community with boardrooms and banquet halls featuring state-of-the-art audiovisual systems that can handle receptions, banquets or corporate functions. Between the conferencing systems and the multi-faceted resort experience, Great Wolf Lodges lean heavily on advanced AV technology. Since 2002, the preferred design/build vendor for all audiovisual systems has been MGR Professional. Based in Flint, Michigan with a satellite office in the Dallas/Fort Worth area, MGR Pro delivers complex high-performance audiovisual systems for a broad range of residential, educational, religious, governmental and corporate clients in addition to Great Wolf Lodges. "On each project MGR has completed, they have gone above and beyond our expectations," says Great Wolf Resorts COO Kim Schaefer.
Great Wolf Lodges may be rustic in appearance, but their modern professional facilities demonstrate a commitment to bring out the best in any organization. The large, partition-able White Pine Ballrooms are complemented by breakout and meeting rooms, boardrooms, pre-function spaces and outdoor event areas. Presentations are supported by broadband Internet and audiovisual systems that gain much of their flexibility and clarity from Rane Mongoose digital audio routers and RAD wall plates.
Senior AV Engineer Dan Gilliam is responsible for many of these systems, including the 18,000 square foot center in Charlotte / Concord, North Carolina, which has eight different configurations from 627 to 6600 square feet, as well as the 20,000 square foot conference center in Great Wolf Resorts' flagship resort in Grapevine, Texas, which accommodates meetings of 15 to 685 people in its 15 configurations. Gilliam specified Mongoose and RADs in both locations. "I was already using a CobraNet-based system at Great Wolf Lodges," he recalls. "The BSS London is our central DSP processor. When I saw that Rane had introduced the Mongoose, I said 'This is sweet.' I was tired of spending a day checking that my guys had wired everything correctly. If they hadn't, I would have to send them back to the job site, or get out the soldering iron and try to make the system work myself. Mongoose and RADs have really simplified the connection process for us."
"By putting uncompressed digital audio on CAT 5 cable, Mongoose has clarified so many issues," Gilliam explains. "It has alleviated a lot of audio quality issues, and we've really cleaned up the racks. Getting all those mic and line inputs into the BSS London processor went from being one of the trickiest parts of the installation to one of the easiest. I spend minimal time now on that aspect of the system — Mongoose just works."
MGR Professional has also saved themselves and their client money on maintenance with Mongoose and RADs. "If there's a problem," Gilliam explains, "I can just ship out a new module. They unscrew two screws, unplug an RJ-45 connector, replace the RAD, and they're back in business."
It wasn't always that easy. Gilliam recalls having to fly out to Grand Mound, Washington to track down a stubborn audio problem that nearly made the conferencing facilities unusable. "At Grand Mound, they have 11 meeting rooms, 6 in the main ballroom," he reports. "All of sudden, they began hearing major noise and crosstalk throughout the entire system. No one could track down the source of the problem, so they had to pay me to fly out to Washington. The entire system was compromised by one mic cable that had become frayed, so the shield was grounding itself."
"With Mongoose and RADs, it's impossible to have that kind of problem" Gilliam says. "It has really helped the audio quality on these projects. We got rid of a lot of noise and induction from lighting. It's made a huge difference in the clarity of the overall sound."
The Great Wolf Lodge, in Grapevine, Texas, room combining system uses a dozen RAD1 mic input wall plates and a pair of Mongoose routers as the inputs for BSS London BLU 800 and BLU 120 CobraNet DSPs. A similar system is installed at the Great Wolf Lodge in Charlotte/Concord, North Carolina, "I plan on using Mongoose in the future," Gilliam states. "It has been rock solid."

Rane Mongoose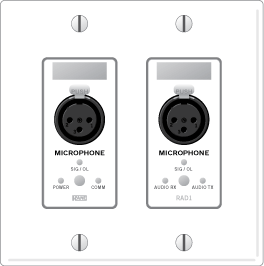 RAD1 Dual Mic Input